Welcome!
Articulation is the process of evaluating courses to determine
whether a particular course offered at Santa Barbara City College is
comparable to, or acceptable in lieu of, a corresponding course at a
particular UC, CSU, independent or out-of-state university campus.
Each university system has its own program requirements. These
requirements vary with the student's intended major. An articulation
agreement is an agreement with a four-year institution that specifies
which SBCC classes may be transferred to meet general education,
elective, or major requirements. The purpose of articulation is to
facilitate the successful transfer of students from the community
colleges to the baccalaureate

colleges and universities

.
Santa Barbara City College

Your Pathway to Transfer Success!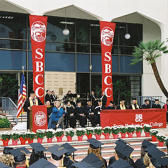 Laura Castro
Articulation Officer/Counselor
Santa Barbara City College
721 Cliff Drive
Santa Barbara CA 93109-2394
(805) 965-0581
What We Do
Articulation serves as the cornerstone of student academic advising,
transfer success and curriculum development by,
•
Providing students with transfer "road maps" called
articulation agreements.
•
Facilitating student's transition from other institutions to
SBCC and from SBCC to four–year universities by certifying
general education transfer requirements (IGETC and CSU
General Education Breadth patterns).
•
Creating and maintaining curriculum guides which outline
SBCC requirements for programs of study.
•
Assisting instructional faculty in the development of new
curriculum (both courses and programs) and to ensure its
compliance with transfer and articulation requirements and
Title 5 regulations.